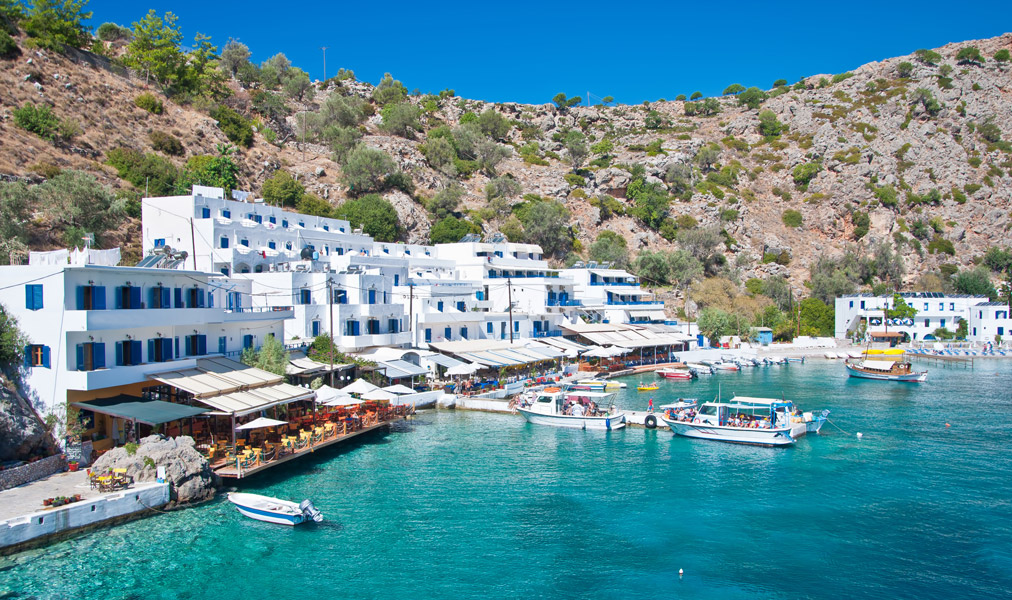 Chania Transfer Mini Bus Sfakia, Loutro, Marmara
Book your Sfakia Chania mini bus transfer with Transporter Chania. There is plenty of space for your luggage when book your Sfakia Crete mini bus with us, however it would be preferable to confirm your luggage volume in advance through our booking form. We specialize in Sfakia Chania Crete mini bus transfers, let us take the headache out of your holiday!
Chania to Sfakia, Loutro, Marmara
Marmara bay is a hidden paradise on the south coast of Chania prefecture. Marmara in Greek means marbles and is named after the white washed rocks that enclose the beach. The sea caves with the amazing crystal waters and the end tip of the Aradena gorge behind the beach are contributing to the uniqueness of the landscape.
The nearest road is miles away and you can get there by boat from Sfakia bay or on foot, if you take the E4 trail or cross the Aradaina gorge. The beach is organized with chairs and umbrellas and a small tavern serves refreshments and delicious traditional dishes.
Loutro is a seaside village, in a natural bay, 71km south of the city of Chania. It is a very charming village for those who seek a different experience. Forget cars and motorcycles here. The only way to get there is either on foot or by ferry boat from Sfakia. The hotels are cozy with no pools, since one can dive anywhere along its coast. You can order fresh fish from most of the taverns. The weather is very good most of the days, because the village is located in a small bay protected from the winds. There are restaurants, coffee shops, an organised beach and canoes to rent.
We suggest we pick you up from your hotel early in the morning. We start our road trip heading to Sfakia. We arrive at the port and there you can rent a private speed boat to take you to Marmara or Loutro or both. You can stay there for as long as you want. We guarantee that this day trip, is going to be one of the best in your lifetime. You are going to see places you haven't even imagined. The landscape of huge mountains plunging into a sea of crystal waters and the cave formations, is something unique. Prepare yourself for a full day because once you get there, you will not want to leave!
Don't hesitate to ask us for a price quotation of this route and please include the number of passengers (up to 8).
Matters such as time of departure, pick up point, option of lunching and other places to visit are entirely up to you to decide. We arrange the route together according to your likings. You decide where you want to go, and we make sure you get there safely.