Highly recommended, June I
—————————————————
"It was wonderful to find such a reliable, efficient, pleasant, friendly, responsive and courteous taxi service on our first time in Crete and we will definitely plan to use Transporter Chania's services should we visit again. Very Highly Recommended."
Very good, geneloef 
—————————————————
"Serious driver, helpful. Comfortable new van. On Time. We had to be at the harbor boat early in the morning. Hlias advised us to arrive a little bit sooner than we planed it and he was right. It was a pleasure. Thank you."
Good taxi in Chania, julieG6647SF
—————————————————
"Hlias was waiting for us when we arrived. He helped us carrying our suitcases to his car. His car is comfortable and the baby car seat we requested was good for our 6 months old. Communication beforehand was easy. Would definitely recommend."
Very comfortable car, gerardpm7795
—————————————————
Hlias drove me and my family to the airport! His van and the drive were both very comfortable it was an excellent price and I would highly recommend him. 10/10
Friendly driver, Brebo
—————————————————
"Highly recommend Transporter Chania, Hilas was an excellent driver and very friendly, we had been travelling for 30 hours straight with little children and they had the baby seats and everything sorted and made a stressful situation very easy, top notch service"
Excellent service, George Dimaris
—————————————————
"Ilia could not do enough for us- he was very professional, provided excellent service and went above and beyond. I highly recommend Ilia for his transportation services in Chania. He helped to make our holiday a dream"
Trip from airport to hotel,  Thomas
—————————————————
"Nice pickup in airport. Assisting with luggage to the car. The car is nice and clean with aircondition. Pricing are fair compared to the hot stuffed travel agency bus. Nice and safe trip from Chania to Kolymvari. Been using this service for 2 visits to Crete for the holidays."
Transfers From Chania Airport.
| Destination | 1-4 Persons | 4-8 Persons |
| --- | --- | --- |
| Agia Marina | 38€ | 67€ |
| Agioi Apostoloi | 33€ | 58€ |
| Chania City Center | 27€ | 46€ |
| Platanias | 40€ | 70€ |
| Kasteli – Kissamos | 69€ | 105€ |
| Almyrida | 43€ | 68€ |
| Kalamaki | 33€ | 57€ |
| Rethymno City Center | 83€ | 129€ |
| Heraklion City Center | 153€ | 215€ |
| Hersonissos | 178€ | 240€ |
| Agios Nikolaos | 235€ | 290€ |
| Elounda | 239€ | 310€ |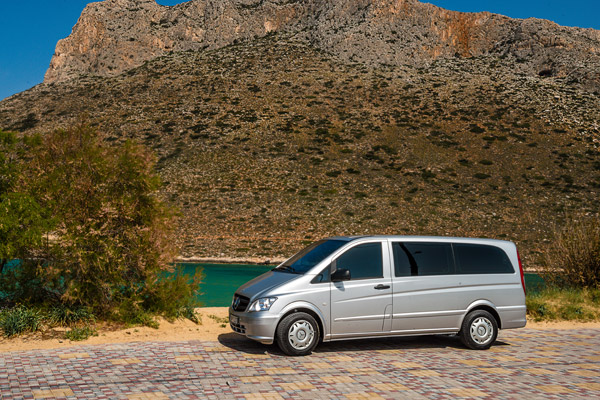 Flight Delayed? We Wait.
Safe ride for your Family.
Free Baby seats
Mercedes vehicles
Air-conditioned transfers
Professional drivers.
Guaranteed Pick Up.
Book your transport prior to your arrival and save money, time and energy. You want your holidays to start comfortably and effortlessly, therefore ensure an easy way to get to your hotel sooner than later! Let us remind you that during high season, Chania's airport and public transport are overwhelmingly packed with people.
We remain at your disposal 365 days/year, 24hours/day. It is our pleasure to drive you anytime, anywhere in Crete and even make suggestions of places you may not be aware of. Crete is a fascinating island with many hidden gems, and we are more than willing to share with our customers.
Need help booking or something right now?
Call our customers support team or text message in the number below in order to get a direct answer for all your needs.
00306973329481(Viber and What's Up)
Looking for Chania airport transfers ? Transporter Chania will be waiting to meet you for your Chania airport transfer.
Chania airport transfers directly to your hotel with Transporter Chania, book a reliable Chania airport transfer with a mini bus.
We recommend to pre-book a transfer from hotel to Chania airport, Transporter Chania offers great prices for chania airport transfers.
Take the worry out of your Chania airport transfer and pre-book a comfortable mini bus transfer to and from your hotel resort or holiday apartment.
Safety always comes first. We employ professional drivers who regularly pass health check-ups, and our vehicles are granted with valid MOT tests.
Transporter Chania offers low cost airport transfers from Chania airport, Heraklion airport, book a mini bus for Crete airport transfers.
Make an early request and e-book your transport, prior to your arrival. Just send us an email through this site, and we will confirm your reservation in no time. We will be waiting for you at the agreed meeting point, holding a sign with your surname.
There is plenty of space for your luggage; however it would be preferable to confirm, your luggage volume, in advance, through an email.
Choose Transporter Chania Crete transfer services to and from the airport, personalized routes and excursions. You can choose your transfer destination and pickup time, in Crete all roads lead to beautiful destinations!
We are available 24/7 to any transfer request. We understand the fluidity of vacations. Often there is no programming or scheduling and your holidays are subject to changes depending on the mood of the day. Forget the stress of booking a taxi in Crete, choose Transportet Chania for your private transfer to any destination within Crete.
Regardless of flight delays, traffic jams or weather conditions, your driver will be waiting for you on time of your appointment and will remain on post until your pickup. In case you have a flight cancellation, we would appreciate you noticing us.
The Transporter Chania is a legitimate transport service, authorized by the Ministry of Tourism. We comply to strict laws and regulations, and we are held accountable for the services we provide.