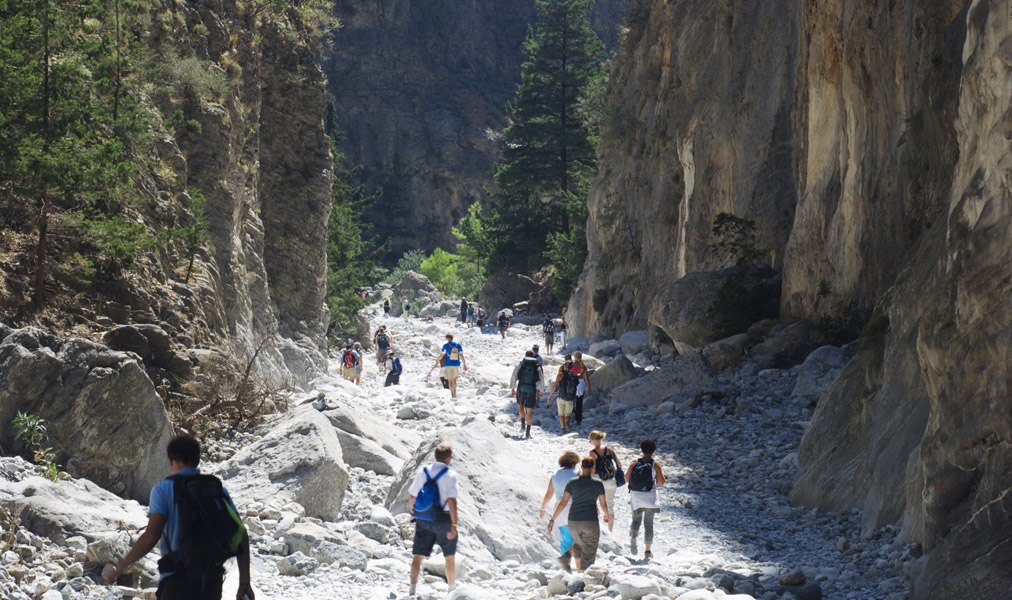 Chania transfer to Samaria Gorge
Book a private transfer from Chania to Samaria Gorge with Transporter Chania, free yourself from crowded buses and enjoy our Chania tours to Samaria Gorge with a mini bus. Book your transfer to Samaria Gorge from Chania online with instant confirmation.
Excursion Chania Samaria
Samaria Gorge is the longest gorge in Europe, measuring 16 km, starting at an altitude of 1,250 m at the northern entrance, and ending at the shores of the Libyan Sea in Agia Roumeli. For those who seek new experiences and activities in nature, this hike offers all the excitement. It is not a surprise that people from all over the world come to Crete in order to cross the Samaria Gorge. During your 6 hour hike, you will witness breathtaking scenery and encounter rare species of the Cretan flora and fauna. It is the natural habitat of the unique goat species named Kri-Kri that one will only find in Crete.
The starting point of the downhill hike is at the entrance of Omalos plateau. We drive you there, early at in morning where you can chose either to start the day with a breakfast meal at Omalos or skip breakfast and begin your hike straight away. It takes about 4-6 hours to cross the gorge. We suggest you take your time for some photos and enjoy the natural beauty around you. It is safe to drink water from every spring you come across. When you reach the famous gates, make sure to take some more photos; it is the narrowest spot of the gorge and it is a spectacular sight. At the end of your hike, you will arrive to the picturesque village of Agia Roumeli where you can finally rest.
You will find quite a few traditional taverns, a mini market and the ticket selling point for your return with the ferry boat. While you are there, take the time to enjoy the idyllic crystal waters of the Libyan sea.
The ferry leaves at 17.30 from Agia Roumeli. At about 18.30, you will arrive at Sougia or Sfakia (your choice) and your designated driver will be waiting for you as you disembark from the ferry.
Don't hesitate to ask us for a price quotation of this route and please include the number of passengers (up to 8).
Matters such as time of departure, option of lunching and other places to visit are entirely up to you to decide. We arrange the route together according to your likings. You decide where you want to go, and we make sure you get there safely.