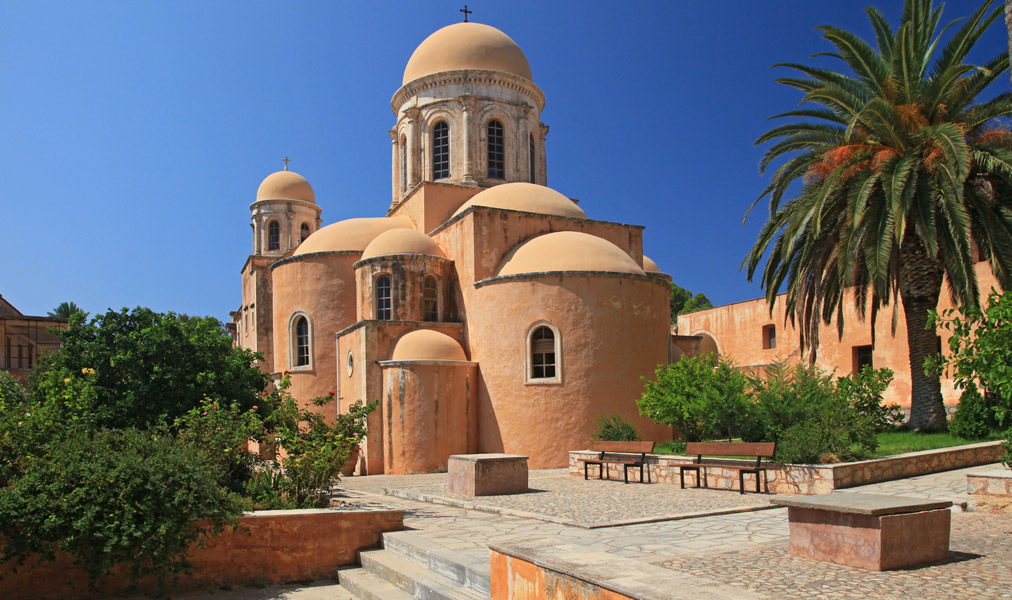 Chania Transfer, Agia Triada, Chrysopigi, Katholiko, Gouverneto

The monastery of Agia Triada of Tzagarolon is one of the richest and most beautiful monasteries in Crete. It is located near Chania's airport. Apart from the central church and the monks' cells, the monastery today hosts a small museum with various pictures and icons as well as a shop where one may find various natural goods produced by the monks and other local producers.
Chania tour to Agia Triada, Chrysopigi, Katholiko, Gouverneto
The Holy Patriarchal and Stavropegic Monastery of Chrysopigi is found at a short distance from the city of Chania, on the route to Suda port. It was founded in the middle of the 16th century, during the last period of Venetian rule in Crete. The Monastery is dedicated to the Lady of the Life-Giving Spring, who is popularly known as 'Chrysopigi', meaning the Golden Spring.
Today, after the numerous historical adventures, the monastery continues to play an important role in the religious and economic life of Crete. It is Stavropegic, which means that it is directly managed by the Ecumenical Patriarchate of Constantinople. Visitors will see an incredibly well-preserved and vibrant monastery that produces and exports organic olive oil, wine, honey, vinegar and olive oil soap of unique quality.
Katholiko monastery is considered the oldest monastery in Crete, as it was founded in the mid-11th century. Its founder was St. John the Stranger or Hermit, who lived in the cave, where you will see the temple dedicated to him. The surrounding caves, housed many hermits, while some monks lived in the cells of the monastery. When the coasts of Crete were attacked by pirates, the monks were forced to move to more remote places, so they abandoned Katholiko.
Today, the monastery is in ruins and can only be accessed by using a trail that that starts from the Gouverneto monastery (20-30′ walking). In the monastery you will see the Cathedral of St. John the Hermit and his Cave, the ruined monks' cells and the impressive old bridge that crosses the river. Beneath the floor of the bridge there are still several storage rooms.
Don't hesitate to ask us for a price quotation of this route and please include the number of passengers (up to 8).
Matters such as time of departure, pick up point, option of lunching and other places to visit are entirely up to you to decide. We arrange the route together according to your likings. You decide where you want to go, and we make sure you get there safely.